Staging is an area of model railroading that has changed over the years. At first the concept did not exist, railroads could only handle as many cars as you could see or hold on the visible portion of the layout. That evolved into staging yards, holding cars and trains waiting to move into view. These were either hidden above, below or behind. Staging even went another step further as to staging your cars on a visible portion of the railroad.
For my railroad I chose to model 2 staging yards and I placed them on a lower level. There is an East and West yard, they each have 6 tracks that are at least 10′ Long (One of my design criteria). Shown in the first picture is the general layout of the East Yard. The levels are 12″ apart and there is just enough room for access. I chose this separation as to limit the grade to 2.5% or less.
The idea behind this type of staging is that you expand the layout beyond your physical boundaries. A train entering the visible portion from the East Yard could be coming from anywhere you choose. There is hardly any limit, some even exchange cars from other model railroads.
To make this expansion work you will have to go the extra mile in regard to trackwork… the track and turnouts must be installed with care and thoroughly tested. All turnouts are powered with Tortoise switch machines controlled by CMRI outputs. There are Atlas re-railers at the beginning and end of every track, along with foam bumpers to ease the stop.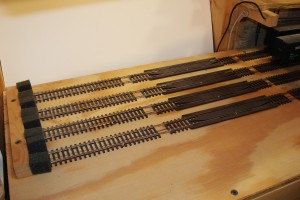 Turnout, track body and track ends all are on separate detection zones. An LED will alert you as you enter the track, clear the switch (actually on the staging track) and when to stop (final 6″ to a foot).
Second photo shows the re-railers and bumpers. Detection gaps can be seen cut into one side of the re-railers.
Third photo shows the DCCOD Occupancy Detectors, wiring and some of my wiring conventions as to marking of zones and labeling wires. NOTE: keep your wiring neat, labeled and take notes.
With these 2 staging yards I have expanded my layout beyond the physical boundaries of my basement, I can run more trains without repeating a train and with careful track work and electronics this will be accomplished with little to no hassle.